We link classroom training to experience and to the real issues faced by our clients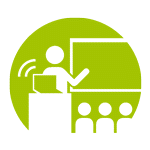 We can bring the training to life through the skills and expertise of our instructors with real examples and case studies calling upon decades of hands-on experience.
Our Classroom training is defined by these characteristics:
Available pre-workshop diagnostics to determine context and real world client specific scenarios to use in the training supports practical application
Instruction by one instructor with a recommended maximum of sixteen participants
Embedded learning objectives aligned with your organization's strategic imperatives
Multi-media delivery and discussion sessions as well as case studies, group exercises and problem-solving sessions
Course materials that include powerful graphics, and practical "how to" methodologies.
During class sessions, instructors function as coaches:
Participants can inquire about lecture content, test their skills in applying knowledge, and interact with one another in hands-on activities, encouraging participants in individual inquiry and collaborative effort.
Benefit: 
We travel to your location of choice;
Participants get to work, and problem solve with their peers during classroom sessions;
Participants have the opportunity to put questions to a subject matter expert who is facilitating the class.
Terms
We charge per event based on a recommended maximum of 16 delegates. Our fees include trainers, travel, preparation, basic customization and standard course hand-outs but exclude venue and facilities hire, expenses and sales tax where applicable.
Unless otherwise agreed:
We provide all materials on the basis they are for use by the delegate who attends the training event in the course of their work for the company who engages us;
All intellectual property used in training or hand-outs remains the property of Corporate Purchasing Practice Inc;
We do not provide electronic versions of the training materials;
Making copies of, transmitting or distribution of any Purchasing Practice training materials is strictly forbidden unless we have provided a license to do so;
The client handles the provision of the training venue, delegate invitations, logistics and any equipment (as per our specification available upon request).