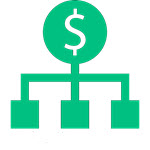 Category Management is one of the several elements the most successful companies worldwide integrate and apply business-wide to achieve and sustain success.
Category Management links strategic sourcing to the business strategy and identifies the most valuable sourcing initiatives required to deliver the strategy into the business. While delivering higher value through cost savings, it can also deliver reduced risk, increased innovation, brand value, operational excellence and a stronger competitive position.
The CPP Category Management methodology represents best practice strategic purchasing with proven results and can help your organization achieve significant value and impact.
We have substantial experience implementing Category Management in different organizations and we offer a range of Category Management training courses to help you build capability. Category Management training courses can be based on the CPP Category Management process, or can be fully customized to your organization. Find out more about our extensive range of Category Management training courses on the right hand menu.