Introduction to the CPP Category Management process including an exploration of the principles and what makes it so successful
It is a great precursor to a wider, advanced Category Management program for stakeholders or individuals who contribute to Category Management programs.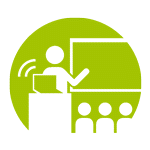 This course reviews the role within organizations of purchasing to help participants understand its value contribution and what is needed to unlock it, utilizing key tools that illustrate buyer-seller dynamics. It will help you develop winning category strategies by ensuring those across the business who need to be involved understand, support and actively participate in the Category Management process.
Our hands-on experience in real life category management brings the training to life using a combination of tuition, facilitated debate, group work and case studies.
We can customize the course as needed and, if required, we can combine real current work issues for participants to work on their categories, creating key outputs from the workshop.
Learning objectives
On completing this course participants will be able to:
Describe what Category Management is and how it adds value
Explain the key steps of the process
Describe ways that suppliers gain advantage
Apply tools to help define and plan a category
Describe business needs
Contribute to a Category Management project