Structured on the CPP Category Management process the main emphasis is on the steps to defining a breakthrough sourcing strategy:
This course provides a solid grounding for key stakeholders and practitioners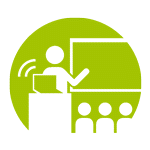 It includes an introduction to Category Management, explores its key principles and provides a strong understanding of how to apply the process and the key tools from the process.
It enables you to deliver the critical goals your business needs for success to unlock innovation and greater value from your suppliers and key categories of spend.
Our hands-on experience in real life category management brings the training to life using a combination of tuition, facilitated debate, group work and case studies.
We can customize the course as needed and, if required, we can combine real current work issues for participants to work on their categories, creating key outputs from the workshop.
Learning objectives
On completing this course participants will be able to:
Describe what Category Management is and how it adds value
Explain the key steps of the process and determine which tools to apply
Participate in a cross-functional team
Define business requirements for a category
Begin to analyze a category and develop a breakthrough category strategy
Support the creation of a source plan or category strategy
Participate in category projects on-going