The course covers all aspects of the CPP Category Management process:
This course is essential for any company embarking on, or attempting to revitalize a Category Management program.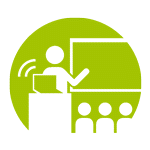 It enables and fully equips you to deliver the critical goals your business needs for success to unlock innovation and greater value from your suppliers and key categories of spend. Whether this be reduced cost, supply base risk, or supporting growth, etc.
Our hands-on experience in real life category management brings the training to life using a combination of tuition, facilitated debate, group work and case studies.
We can customize the course as needed and, if required, we can combine real current work issues for participants to work on their categories, creating key outputs from the workshop.
Learning objectives
On completing this course participants will be able to:
Describe what Category Management is and how it adds value
Apply Category Management to enterprise-wide spend
Explain each of the process steps and apply appropriate tools in each step
Establish and manage a cross-functional team to engage the business
Define and document business requirements
Analyse a category and develop a category strategy
Create a source plan
Develop a detailed contract implementation plan
Manage contract implementation and apply change management principles
Describe how to link contractual terms with the category strategy
Begin to implement suitable arrangements for supplier management
Determine when to restart the Category Management process