Multi modal Procurement Training Delivery
Participants can utilize all four learning four modalities:
Visual (seeing), auditory (hearing), kinaesthetic (moving), and tactile (touching), via our delivery channels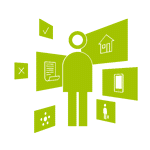 Multi Modal Procurement Training Delivery. Just as a single shoe size doesn't fit everyone, neither does a single instructional method ensure learning for all. Adult learners come not only from differing localities, cultures, and professional experiences, but also from different educational backgrounds. The phrase "learning modalities" refers to all the different ways in which learners acquire, process, and demonstrate what they know.
We use a variety of tools and methods to  offer participants different approaches learning. While the content of instruction is based on a learner's goals and assessment results, instructional delivery is varied to provide exposure to different learning modalities via our range of delivery channels: