Virtual Classroom – Webinars
Virtual classroom – brings a live trainer to your PC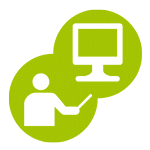 With all the benefits of face to face training using screen share technology, it brings real time instructor led training to your desk-top. Sessions are designed to both reinforce and build upon our e-learning content, and to support confident application of targeted behaviors for increased business impact.
Academy VC is a dynamic online space providing unique content, with rapid feedback, guidance, and a mix of testing and assessment activities. While the virtual classroom does not eliminate the value of convening and meeting in person it adds significant value to our e-learning content to reinforce learning and promote application for a real ROI.
Experts revisit concepts to reinforce learning and prepare further for classroom sessions:
After participants have completed e-learning modules, they can submit any questions they may have regarding understanding and/or application. These are combined into VC sessions where the trainer reviews these questions with the group to increase learning.
Benefits:
The reinforcement and reactivation of knowledge is key to learning. The virtual classroom achieves this and builds further on participants knowledge base for:
Enhanced Learning Effectiveness
More Active Feedback and Improvement
Significant Productivity Gains
Green Gains
Reaching More People with More Relevant Content