Connect procurement to the strategic business agenda with Innovation Centred Procurement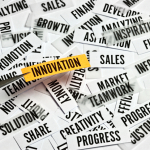 What is Innovation Centred Procurement?
Most procurement organisations are not currently equipped to penetrate the strategic innovation agenda. Innovation Centred Procurement is our cumulative program which redefines the concept of value from procurement and builds the capacity and capability of procurement to both contribute and drive the innovation agenda incorporating:
Our assessment
Developing the Strategic Road Map, and
Building the Processes & Program Management capabilities
Identify more powerful entrepreneurial behaviors
Supporting you through innovation initiatives
Why do you need Innovation Centred Procurement
Our reasoning is simple: innovation is increasingly sourced external to the organization placing the skills and responsibilities of the procurement function right at the heart of its process. However, unless procurement grasp the opportunity of innovation it will continue to be bypassed and innovation will happen outside of the procurement function – and a significant prize will have been willfully lost.
The compelling driver for innovation on the procurement agenda is to make the strategic connection to growth. Something few have achieved.
Working with you
Assess your current capacity and capability to drive innovation
Produce a strategic road map for Innovation Centred Procurement
Recommend specific actions to increase the capacity and capability of procurement to innovate
Introduce your team to the concept of procurement entrepreuring
Work with your team on implementation
Relateted content.