Organizations of all sizes and in all sectors need Procurement Analytics
Here in the first of a series of post we discuss the business case for Procurement Analytics and how and where to apply it to support your organizations goals and objectives.
1. Introduction
There is always room for improvement and expansion of procurements value proposition at global companies.  However, you need the data and intelligence to know where you're performing well and where you're falling short. Data is the lifeblood of any procurement professional and organization. Without it we are blind.
Intelligence – whether of our skills and available bench strength or market, supplier, spend or of best practices is critical to ongoing business success and achieving breakthrough results. In today's world of big data and big technology, game-changing insights and opportunities are often sitting under our noses unrecognized and consequently unleveraged because we don't have the ability or tools to do so.
While spend analytics has been around for well over a decade, analytic techniques are being used increasingly today because of these key factors:
The need for faster, informed actionable decisions;
The rise of big data to be collected by organizations across their extended enterprises; and
The availability of low-cost big data Procurement Analytic tools.
To harness the power of these tools CPO's must embed them in their procurement processes and develop the capability of their teams to apply these processes using the available analytical tools.
2. Procurement Analytics
Encompasses traditional Spend Analytics and adds additional dimensions of procurement spend data such as contract management and supplier performance management among others.
It helps identify underperforming aspects of procurement and provides actionable insight to take action to reduce cost and add value.
The primary function of Procurement Analytics is to tell a company how, where and on what it is spending its money. It's ability to automate the extraction, transformation and loading (ETL) of procurement data provides much of the value of Procurement Analytics. This automation alleviates the historically challenging task placed on procurement professionals of manually assembling the data from disparate systems across the enterprise. A time-consuming, labor-intensive process that frequently involves staff from the IT department to structure and run reports from multiple enterprise systems and the use of external consultants to analyze the data.
The right intelligence, readily accessible, is critical to making the right decisions at the most impactful time and is essential for managing growth, enforcing compliance, and mitigating volatility and risk.  It is a prerequisite for the strategic positioning of Procurement in achieving business goals for the company.
3. 10 Reasons why all organizations need Procurement Analytics
Whether in the private or public sector, organizations of all sizes face continued pressures to reduce costs in the face of increased demands for better value due to world economic, competitive, risk, and supply constraints:
Pressure to reduce cost;
Drive to expand spend under management;
Increase negotiation power with suppliers using advanced data analytics;
Pressures to ensure compliance with negotiated contracts;
Regulations – such as the Sarbanes-Oxley Act – require established and documented procedures for monitoring and reporting material information, procedures, and systems for compliance and auditing;
Increase the return on investment of existing technology investments into sourcing, procurement, and ERP;
Goals to improve and support product development and capture innovation in new products and services from suppliers;
Pressure to reduce inventory through the elimination of waste and redundant or unnecessary stock;
Pressure to meet CSR goals such as diversity, environment, human rights, etc;
Any procurement and supply chain improvement initiative requires spend-analysis at some level to define the scope of the opportunity as well as establish a current state baseline.
Procurement Analytics provides a powerful capability to analyze business critical data to provide strategic insights that create the business case for action and leads to supply initiatives to capture opportunities for reduced cost and increased value.
3.1 Benefits of Procurement Analytics
The benefits of Procurement Analytics are so extensive it is almost impossible to produce a definitive list, and many organizations have taken advantage of the benefits in their unique situations.
APQC's research indicates that organizations with spend analysis programs have more efficient procurement operations and more robust supplier relationships. The benefits obtained by organizations with spend analysis can be seen in the areas of cost effectiveness, cycle time, process efficiency, and staff productivity. While Aberdeen quantify cost savings, contract compliance, and cycle time reduction, etc.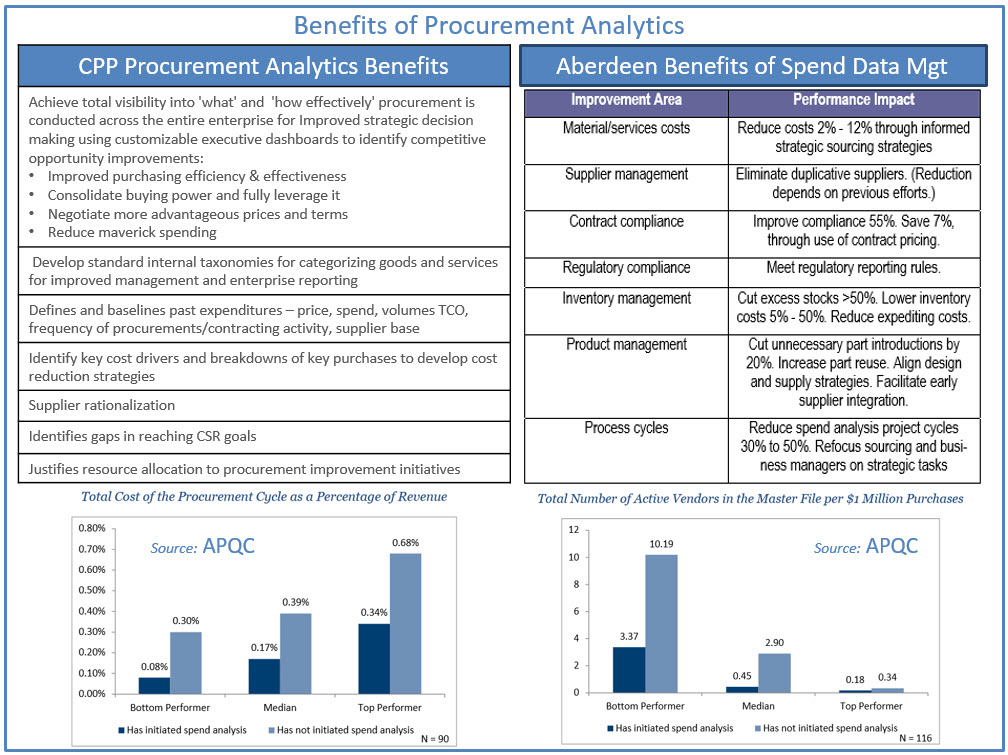 These benefits show how organizations that are prepared to compete based on analytics use Procurement Analytics to improve their effectiveness at the individual, team, organization, and supply chain level to deliver tangible business results.
4. Procurement Analytics: Beyond simple spend data
Conclusion
Procurement Analytics enables organizations to improve margins considerably by providing visibility into spending areas. In turn, the ability to release substantial working capital from operations by optimizing inventory levels and reducing working capital requirements makes the investment in Procurement Analytics a 'no brainer'. Add to this the ability to increase compliance with contractual obligations and you obtain a rapid and attractive return on investment.
Nuff said …
If you would like to discuss how we can solve your Procurement Analytics requirements visit our web page or contact us.